Owning and managing a vessel, or power station, requires a substantial asset. To gain the best efficiency from this investment, whilst protecting it, operators need to maintain the engine cooling systems in an excellent condition.
Lubmarine's premium quality coolant and corrosion inhibitor utilizes the latest organic technology, delivering high performance and extended service life to your engine, reducing overall maintenance costs.
Formulated using unique organic carboxylate technologies, WT SUPRA contains none of the inorganic ingredients, such as phosphates, nitrates, amines, boron or silicates, typically found in coolants. This affords protection to the environment due to its non-polluting properties and allows for reduced disposal costs.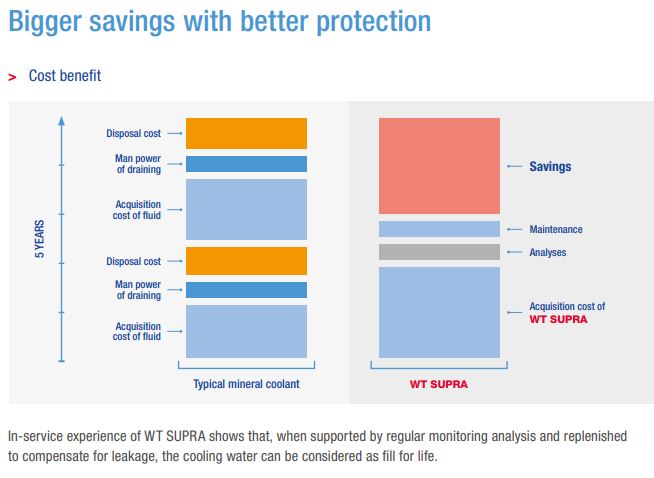 Coolants
Premium
The full list of marine and auxiliary lubricants, including a full range of synthetic lubricants and greases, is available in ports designated as Premium.
Core
The core range of marine and auxiliary lubricants meeting most common marine lubricant applications is available in ports designated as Core.
Limited
Only a limited range and limited quantity of marine lubricants is available in ports designated as Limited.
S.I.
Subject to Inquiry. Please contact our office to receive confirmation of stock availability and date of delivery.
Coolants
TDS
Download Technical Data Sheets
SDS
Go to Safety Data Sheets website